Sunset Hill Stoneware's invoices are itemized so you can see everything we did to complete your order.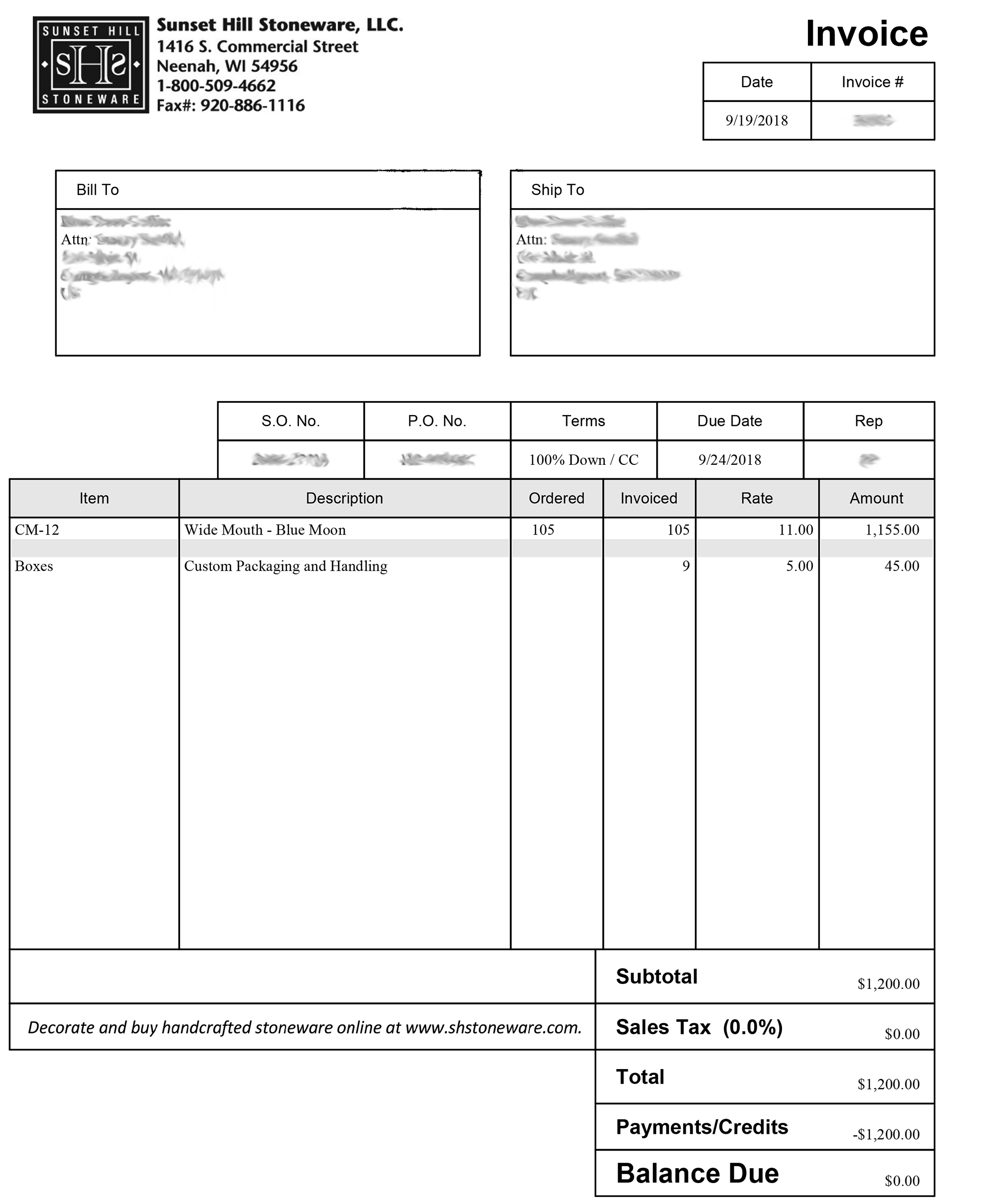 After you've placed your order, you'll receive a numbered invoice from our accounting department. This invoice will include your billing and shipping address at the very top for your convenience. Even if you are billing and shipping to the same address, these will be listed separately.
Below the billing and shipping addresses, you'll find a column labeled "S.O. No.," which stands for "Sales Order Number" or S.O. Number for short. This number helps us keep track of your order while our potters are creating your stoneware in our shop in Neenah, Wisconsin. Next to the S.O. Number, there's a column labeled "P.O. No." This stands for "Purchase Order Number." The purchase order is a document issued by the buyer to the seller with quantities and pricing. You will likely see the purchase order before we send you the invoice.
To the right of the S.O. and P.O. Numbers is a column labeled "Terms." This describes the payment terms, which we agreed upon with you when you ordered your stoneware. Typically, you'll see whether you agreed to pay for your order in full or with a down payment, along with a payment method next to the percentage you paid.
The due date determines when payment for your stoneware is due, along with your customer care representative's initials on the far right. Our team will have discussed with you when you'll have to make your payment prior to when we send you this invoice.
On the lower portion of the page, you'll see an itemized list of every product and service you ordered with their item numbers, a description and the number of products that were ordered and invoiced, along with the price per piece and the total amount owed for each product. In addition to seeing the mugs you ordered, you'll see pricing included for boxes so your stoneware doesn't break on its way to you, plus the cost of shipping if you aren't picking up your mugs.
Finally, at the bottom of the page you'll see the sales tax, the total and any payments you've already made, if applicable. We've included an example of an invoice here, but if you have any questions, feel free to contact your customer care specialist at customercare@shstoneware.com or call 800-509-4662.